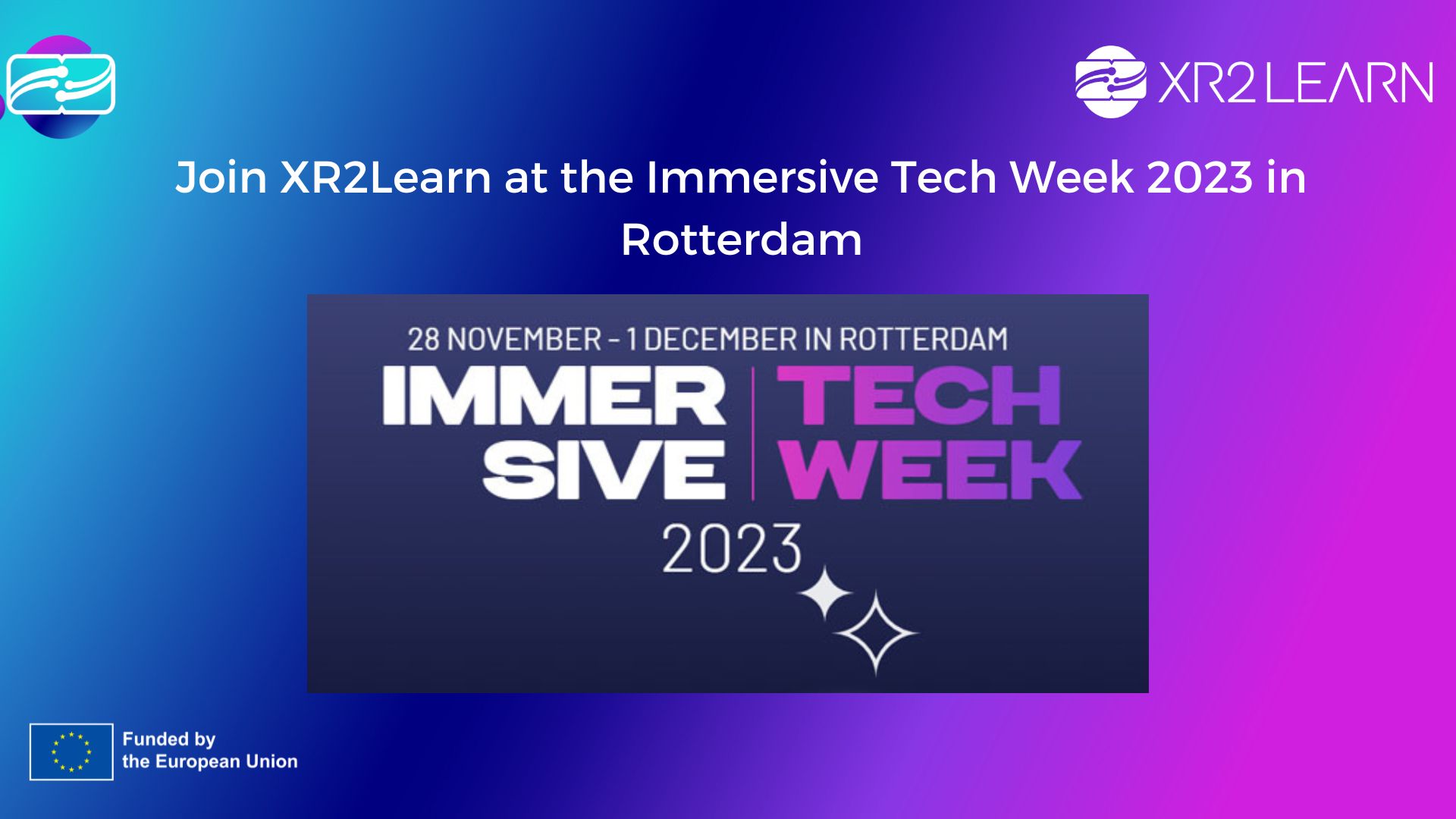 In the dynamic landscape of extended reality (XR), innovation and exploration are at the heart of creating a brighter and more sustainable future. XR2Learn, a pioneering project focused on the intersection of XR, education, and immersive technology, is gearing up to make a significant mark at the Immersive Tech Week 2023 in Rotterdam, running from November 28th to December 1st.
A World of Immersive Possibilities
The Immersive Tech Week 2023 is more than just an event; it's a journey into the world of XR, VR, AR, AI, spatial computing, and haptics. It offers a platform for the brightest minds to converge, share their visions, and shape a future where human-centric experiences take the lead. At the core of this event lies the commitment to sustainability and the promise of a more immersive, interactive, and meaningful world.
 XR2Learn's Captivating Demos
As a participant in this extraordinary event, XR2Learn will showcase two of its remarkable demos: V-Lab and the INTERACT tool.
V-Lab: Virtual Reality in Education Redefined
V-Lab is XR2Learn's answer to enhancing the educational experience through immersive technology. It takes the concept of the virtual laboratory to the next level. With V-Lab, students, educators, and researchers can interact with a dynamic and immersive virtual biology laboratory. It combines advanced graphics, user-friendly interfaces, and modular architecture to deliver a comprehensive educational tool.
INTERACT Tool: A Gateway to Human-Centric XR Interaction
XR2Learn introduces the INTERACT tool, an ingenious Unity plugin that bridges the gap for those with little technical knowledge. It allows users to set up 3D scenes in UNITY, incorporating physical elements, and gamifying scenarios with ease. What sets INTERACT apart is its embedded physics engine, natural object interaction, and scenarization module, making it a valuable resource for XR enthusiasts and educators.
The Immersive Tech Week 2023 promises to be a melting pot of ideas, innovations, and human-centric technology. XR2Learn's participation, with its exceptional demos, is a testament to the project's commitment to reshaping education, fostering immersive learning, and being at the forefront of XR development.
Stay Tuned!
If you want to explore these captivating demos and stay updated on XR2Learn's journey into the immersive tech world, make sure to follow our YouTube channel. There, you'll find an array of demo videos showcasing the tools developed in the scope of XR2Learn, taking you one step closer to an immersive future.
Join us in Rotterdam from November 28th to December 1st at the Immersive Tech Week 2023 and experience XR2Learn's vision of an interactive and sustainable future.