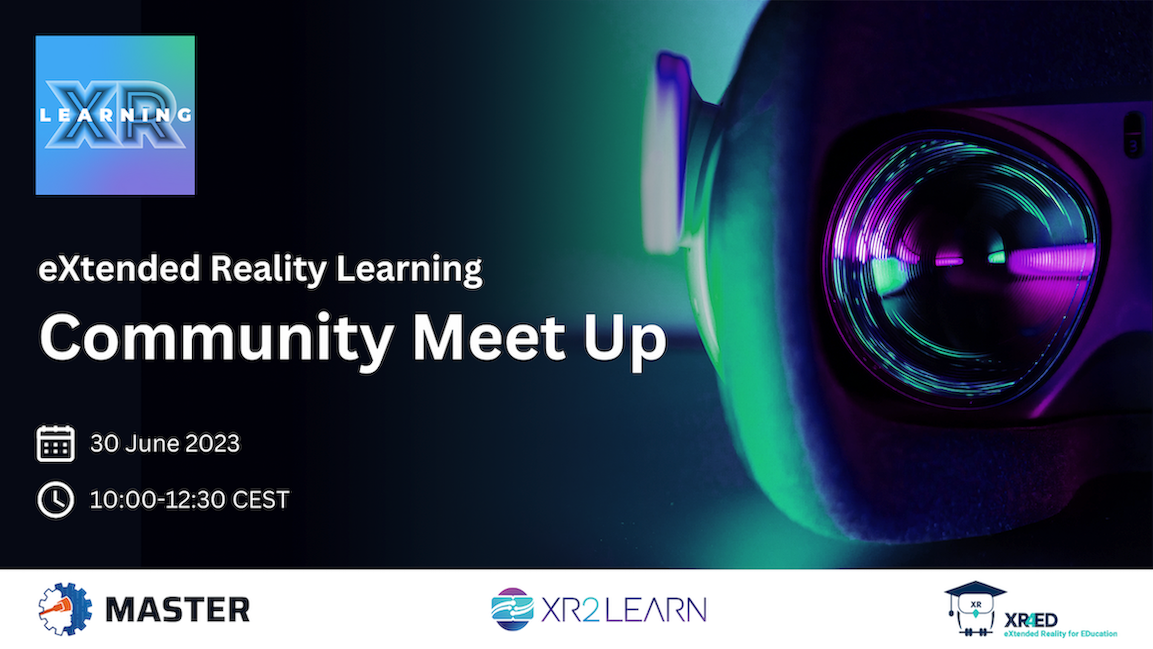 In a rapidly evolving world, the realms of education and training have undergone transformative changes. One such innovation is eXtended Reality (XR), a technology that promises to revolutionize learning experiences. To explore and harness the power of XR in education and training, three visionary projects—XR2Learn, XR4ED, and MASTER—joined forces under the banner of eXtended Reality Learning.
A Unified Vision for XR in Education
eXtended Reality Learning was a communication initiative funded by the European Union, specifically under the theme "eXtended Reality Learning – Engage and Interact." Its mission was clear: to offer a comprehensive and enriching perspective on the myriad approaches to XR in training and education. By doing so, it sought to communicate the outcomes of the XR2Learn, XR4ED, and MASTER projects to a wider audience, raising awareness and deepening the public's understanding of XR technology. In turn, this enhanced knowledge aimed to extend the projects' reach and maximize their societal impact.
Community Building for XR Enthusiasts
One of the standout features of eXtended Reality Learning was its commitment to fostering collaboration and knowledge sharing within the XR community. To facilitate this, eXtended Reality Learning launched a dedicated LinkedIn channel, providing a virtual hub for XR enthusiasts to connect, learn, and grow together.
In a bid to promote meaningful interaction and dialogue, eXtended Reality Learning organized periodic networking sessions. These sessions served as invaluable platforms for sharing best practices, tackling challenges, and exchanging insights. Participants included XR developers, young professionals, and representatives from the educational, scientific, and business communities. By bringing these diverse perspectives together, eXtended Reality Learning aimed to fuel innovation and drive XR technology forward in the education and training sectors.
eXtended Reality Learning's Inaugural Community Meet-Up
The journey towards XR excellence began with the first step, and eXtended Reality Learning took that step with its inaugural Community Meet-Up. Held on June 30th at 10:00 CET, this event offered an enriching program that set the tone for future collaborations. Here's a recap of what took place:
Welcoming: A warm introduction to the event and its significance.
Introduction by Project Officers: Diana Mjaschkova-Pascual from XR4ED and Luis Eduardo Martinez Lafuente from XR2Learn set the stage.
Presentation by XR2Learn: Ioannis Chatzigiannakis delved into the First Open Call and revealed technical solutions.
Presentation by XR4ED: Fotis Liarokapis provided an insightful overview of the XR4ED Project.
Presentation by MASTER: Maria Madarieta and Jesus Rosel shined a spotlight on Extended Reality Learning in Robotics, offering insights into the MASTER Approach.
Closing Remarks: A thoughtful reflection on the day's discussions and a glimpse into the journey ahead.
The eXtended Reality Learning Community Meet-Up was a pivotal event, bringing together innovators, experts, and enthusiasts in the XR domain. It was a celebration of collaborative learning and a commitment to shaping the future of education and training through XR technology.
Stay tuned for more updates from eXtended Reality Learning and its mission to unlock the full potential of XR in education. Together, we're redefining the way we learn and train, one XR experience at a time. In the meantime, feel free to join our LinkedIn group.